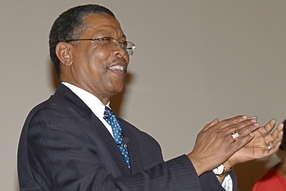 Pastor James E. Boney and the Faith Community Baptist Church family welcome you and invite you to join us for any of our Church Services and Bible Study.
Sunday School - 9 am.
Sunday Morning Church Service - 10 am.
Children Church - 10 am
Wednesday Night Bible Study - 7 pm.​
---
Children Church


FCBC provides Children Church for our children which starts just before the Message is delivered for the adult Sunday Morning 10 am Service. The children enjoy Bible lessons and teachings at the children level along with snacks and other fun activities.
WELCOME TO OUR NEW CHOIR & MUSIC DIRECTOR AND LEAD VOCALIST -- EVANGELIST SERENA FORD
Evangelist Serena Ford has received several awards, proclamations, plaques, trophies, Appreciation for Service, and many publications in the News Journal Newspaper in Wilmington, Delaware because of her Commitment to the Community and Musical Accomplishments. She feels the Lord has placed a mandate on her life to usher in the presence of the Lord each time she gets an opportunity to do so. Come and be blessed and experience this great gift and anointing the Lord has placed on Evangelist Serena Ford's life.
TO GOD BE THE GLORY!!!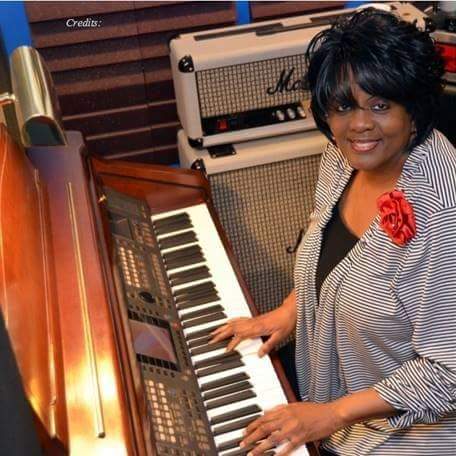 Food Baskets and Toys for Christmas

FCBC was able to help forty families in the community feel the Lord of God as we distributed food baskets and toys for Christmas 2017.
Food Baskets for Thanksgiving

The Missionary Ministry takes a well deserved rest after distributing twenty food baskets for Thanksgiving 2017 to help feed families in our Montgomery County Community.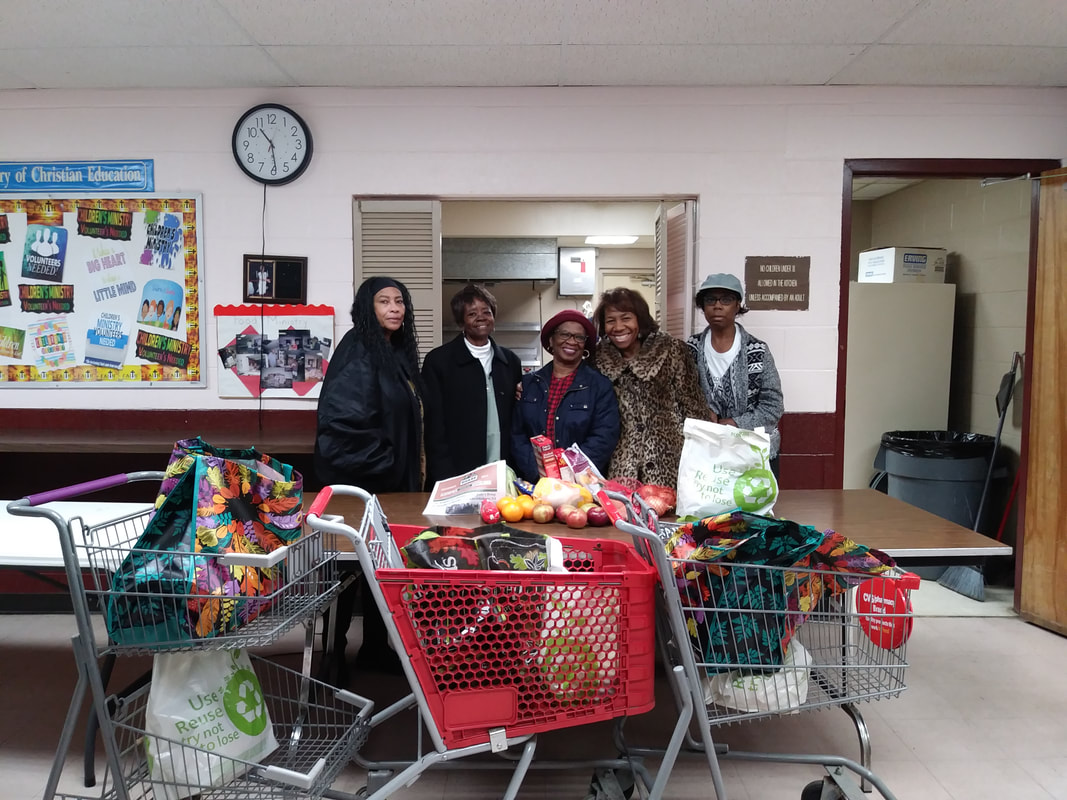 UPCOMING EVENTS!
SHARE THE WARMTH BLANKET DRIVE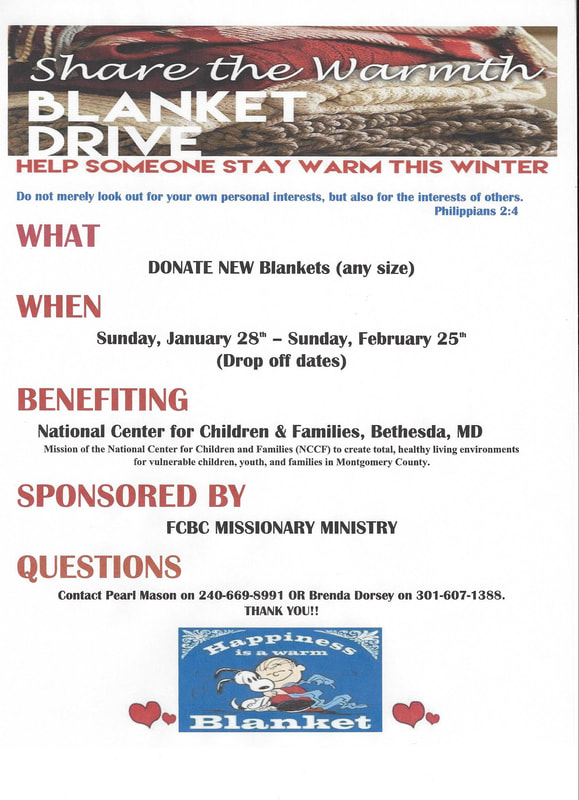 FAITH COMMUNITY BAPTIST CHURCH PRESENTS A
BLACK HISTORY MONTH CONCERT FEATURING EVANGELIST SERENA FORD AND CONCERT PIANIST MR. JEFFERY CORRY. DON'T MISS OUT. JOIN US ON SATURDAY - FEBRUARY 24, 2018 AT 3:00 PM AND BE BLESSED!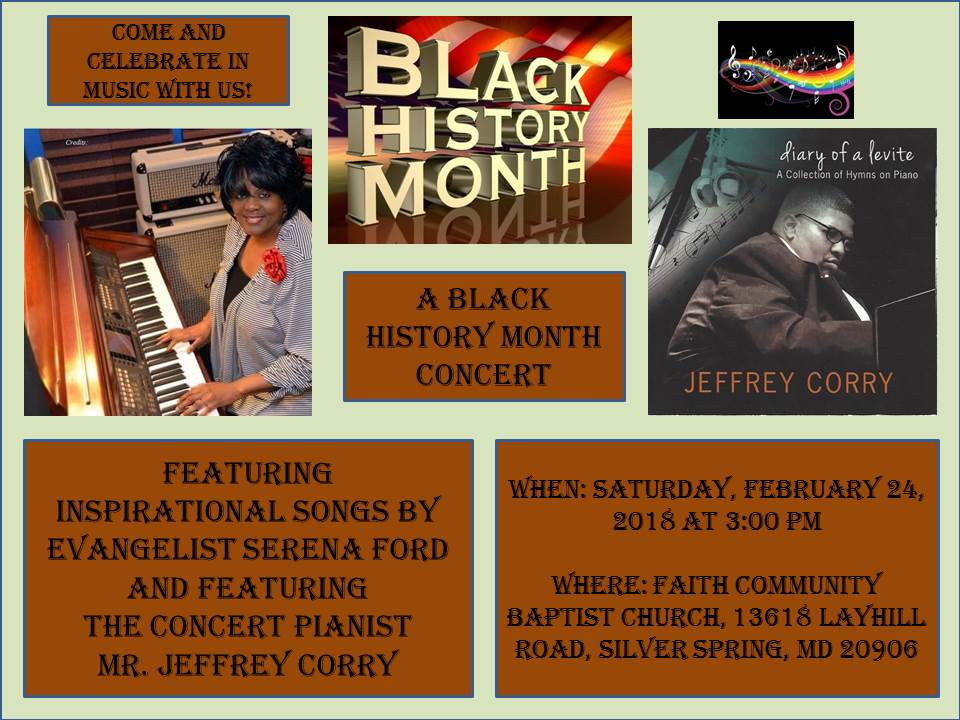 JOIN US ON WEDNESDAY NIGHT - MARCH 21, 2018 AT 7:00 PM AND LEARN TO BE GOOD STEWARTS OVER WHAT GOD HAS BLESSED YOU WITH!

FREE FINANCIAL PLANNING WORKSHOP!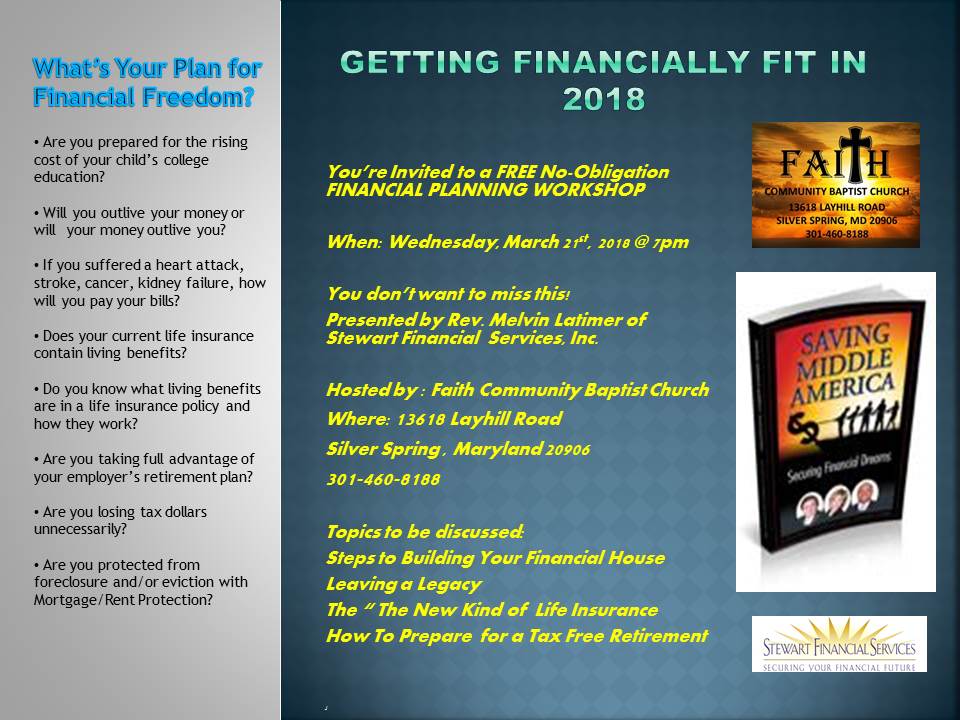 LOOKING FORWARD TO THE END OF WINTER!
MAKE PLANS TO JOIN US FOR THE TRIP TO SIGHTS & SOUNDS THEATRE TO SEE THE BRAND NEW PRODUCTION -- JESUS! ​