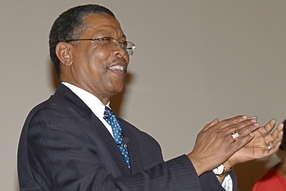 Pastor James E. Boney and the Faith Community Baptist Church family welcome you and invite you to join us for any of our Church Services and Bible Study.
Sunday School - 9 am.
Sunday Morning Church Service - 10 am.
Children Church - 10 am
Wednesday Night Bible Study - 7 pm.​
---
Children Church


FCBC provides Children Church for our children which starts just before the Message is delivered for the adult Sunday Morning 10 am Service. The children enjoy Bible lessons and teachings at the children level along with snacks and other fun activities.
RECENT EVENTS
ARTS & LETTERS LITERARY CAFE

On Saturday, May 21, 2016 from 3:00 – 5:00 PM, Montgomery County (MD) Alumnae Chapter Delta Sigma Theta Sorority, Incorporated in cooperation with Faith Community Baptist Church presented Authors Showcase, an afternoon of Poetry, Prose & Music showcasing our rich pool of local talent in our community.


A Father's Day Suprise!

​For Father's Day, June 19, 2016, the ladies of Faith Community Baptist Church showed their respect and honor for the men of the church after the 10 am Sunday service by providing them with a delicious Father's Day Brunch and entertaining them with their Musical Play Production of "My Godly Guy".

"Nothing you could say could tear me away from my guy,
(My guy)
Nothing you could do 'cause I'm stuck like glue to my guy.
(My guy)
I'm sticking to my guy like a stamp to a letter,
Like birds of a feather we stick together,
I'm tellin' you from the start I can't be torn apart from my guy".

Thank you ladies for a Great Father's Day!


---
​
Giving Glory and Honor to God! Five new Deacons ordained!
We are extremely happy to announce that on the 4th Sunday, June 26, 2016, Faith Community Baptist Church of Silver Spring, Maryland ordained five New Deacons for our church.
Deacon Pearl Mason
Deacon Theodore Mason
Deacon Audrey Hudson
Deacon Brenda Dorsey
Deacon Louis Giles
These new deacons have accepted their calling from God to "Put God First" and work to serve the Congregation of Faith Community Baptist Church in a way that pleases God and uplifts the name of our Lord and Savior, Jesus Christ that He will receive Glory, Honor, and Praise. We extend our Congratulations to our new deacons and Pray God's Blessing upon them as they strive to serve our Lord and His people. Amen.
Pastor James E. Boney